Titan Media specialise in gay porn dvds featuring rugged muscular TitanMen with unshaved natural body hair, maybe with a goatee or beard. The Titanmen Fresh series feature selection of younger smooth guys. Headed by director Bruce Cam, Titan Media gay dvds are always highly rated, and some of their special releases set the standard for how gay porn should be packaged.

Code Red - Gay DVD - Studio: TitanMen Fresh
Code Red is a TitanMen Fresh import that most resembles the high-end level of Titan home grown features. That's no surprise, with Brian Mills behind the camera, and Bruce Cam as the executive producer. So whether it's in Bavaria, Belgrade or downtown Budapest, we're still talking big rock-hard cocks and blistering butt busting sex.
Countryside - Studio: Titan Men Fresh
What better way to spend a sunny spring afternoon than fucking and sucking cock out in the Countryside, in this TitanMen Fresh adventure! Join the party as eight smooth and sexy young studs while away the hours butt banging and deep throating each other under the warm rays of the late afternoon sun. Muscled Michael Getlin and lean, ripped Jakub Kostas come across sexy Chris Kral working in the garden of a country house.
Factory Fresh - Studio: Titan Men Fresh
In Factory Fresh, the latest feature in the popular TitanMen Fresh line, director Brian Mills returns to Europe to shoot another bunch of sexy, smooth and uncut young studs, banging the cum out of each other in an abandoned factory. These guys fuck ass, suck dick and spray jizz all over the equipment when they're not dumping loads on their tight, ripped pecs.
Farm Fresh - Gay DVD - Studio: Titan Men Fresh
Rekindle your lust for Eric Flower, hunky star of Farm Fresh, who is just about the biggest and solidly built stud on the planet. And meet Petr Majer, the most beautiful and robust of all blonds in creation. These insatiable sexmongers share seven other strapping, hard-bodied, outrageously hung and positively uncut younger Czech men in three three-ways.
Farm Hands - Studio: Titan Men Fresh
In his latest farm life fuck fantasy, Farm Hands, director Brian Mills brings you a cast of nine hot, clean-cut guys who fuck each other silly one fine spring day against a backdrop of the leafy forests and rolling fields of the Czech countryside.
Fever - Gay DVD - Studio: TitanMen Fresh
With twelve hot guys, Fever will raise more than just your temperature. Directed by award winner Phil St. John and executive produced for the TitanMen Fresh line by Bruce Cam, Fever was shot in a gritty abandoned army outpost and a former Soviet airbase in the Czech Republic.
Joyride - Studio: Titan Men Fresh
If you like hot young studs stuffing each other's asses full of fat, uncut dick, you'll love Joyride, the latest release from the popular TitanMen Fresh line. Eleven sexy guys discover the joy of riding cock as they hitchhike across the countryside, getting picked up by lean, hard-bodied strangers and fucked to within an inch of their lives. It's a foreskin feast by the freeway!
Hot Lunch - Studio: Titan Men Fresh
Dick is what's for lunch! In Hot Lunch, a TitanMen Fresh release, lots of big, uncut dick is served up hot in this series of threeways where nine horny young chefs feast on each other's thick cocks, fuck some seriously juicy butt and discover that giant cucumbers are good for a lot more than just tossing into salad.
Hot Shots - Studio: Titan Men Fresh
If eight, smooth, cute, big-dicked, uncut studs skewering each other's muscular asses sound like a hot idea to you, then Hot Shots will have you spewing jizz like a fountain. Follow a bunch of foreskin-feasting, butt-banging, throat-fucking, horned-up young guys to their neighborhood gay bar where they warm up a wintry Eastern European afternoon with a couple of drinks and a lot of ass ramming at their very own happy hour fuckfest.
House Call - Studio: Titan Men Fresh

In House Call, a crew of hot, smooth studs hook up online and spends the day fucking the spunk right out of each other. It's a cum-drenched suck n' fuckfest that introduces ultra-hot Marco Blaze. Hot and handsome Jay Roberts is a horned-up young man with an itch that only big-dicked internet escort Marco Blaze can scratch.
Ignition - Studio: Titan Men Fresh
If you're wondering where to get a good lube job in Prague, you'll definitely want to check out the hot young mechanics at this garage. Once the fresh-faced guys of Ignition get revved up, they drill each other up the ass and spray the garage floor with endless cum gobs.
Open House - Studio: Titan Men Fresh
This Open House will definitely take your mind off the mortgage crisis.

Hunky Thomas Winter and Jakub Kostas spend the day looking for a love nest and come across tall dark and handsome real estate agent Karlos Armandes as he's showing a house to a bunch of hot and horny prospective buyers.
Private Entry - Gay DVD - Studio: Titan Men Fresh

You want Private Entry inside an exclusive club? You'll have to work extra hard to get an invite to one of Europe's most decadent destinations - a secretive lounge that only admits the hot and the hung. Eight smooth, uncut studs have already earned Private Entry. Do you have what it takes to keep up with them? Peek inside and join the party! An underwater tango between Marco Bill and Randy Scott is a pool party to remember.
Reserve Duty- Gay DVD - Studio: TitanMen Fresh
If you're in the mood for a pack of smoking hot, hung and sweaty young army studs fucking outdoors under a baking summer sun, you're definitely going to want to check out the guys in Reserve Duty.
RSVP - Gay DVD - Studio: TitanMen Fresh
It's time to RSVP for another smoking hot TitanMen Fresh sex party!
This time, the guys gather at a beautiful town house where cute Brian Brower and tall, muscular Milan Johanson know the proper way to entertain their friends: first, they make sure everybody has a drink, then ream their asses until they've covered the floors and counter tops with load after load of creamy sperm....

Screen Test - Gay DVD - Studio: Titan Men Fresh

In Screen Test, it's a cold winter's afternoon at muscle stud Marco Mark's country lodge, but things heat up as a group of horny young studs come in out of the cold and head straight for Marco's casting couch for some intense ass banging, cock sucking, spunk spewing fun.
Side Tracked - Studio: Titan Men Fresh
In Side Tracked, the latest release from the TitanMen Fresh line, a dozen beautifully muscled European studs deliver twenty cumshots in almost two hours of the hottest sex you'll see on film! Several hot and horny hunks from the TitanMen Fresh features Farm Fresh and Fever join other hard-bodied, hung and uncut younger guys in four scenes of explosive threeway sex.
Spark Plug - Gay DVD - Studio: TitanMen Fresh
Don't be surprised when sparks aren't the only things flying in Spark Plug, featuring a crew of horny, butt pounding, cock sucking mechanics who can't keep their overalls on, but do keep their customers happy and each other busy with plenty of ass-ramming, spunk-spraying fun.
Special Delivery - Gay DVD - Studio: Titan Men Fresh

Special Delivery, the latest TitanMen Fresh feature, arrives packed to the brim with fat throbbing cocks stuffed deep up some beautifully muscled butts as these horned-up young studs while away a summer's day, stuffing their faces with hot uncut cock and pile driving each other's asses.
Suite Dreams - Studio: Titan Men Fresh

It's amazing any of the sexy guys in Suite Dreams get a minute's sleep, much less a chance to dream, with all the hot butt banging and cock sucking going on! The latest in the TitanMen Fresh line takes you to a countryside inn where a crop of hot young studs fuck each other senseless.
Summer Blaze - Studio: Titan Men Fresh

Nothing says summer like a bunch of hot, naked, uncut studs fucking up a sweat in the heat of the noonday sun - and that's just what we've got with our TitanMen Fresh adventure, Summer Blaze.
Summer Encounters - Studio: Titan Men Fresh
If you like hot, tan, muscular, uncut young guys fucking each other in the warm glow of the countryside, then you're going to really get off on Summer Encounters, from the TitanMen Fresh line. In three scenes of hot threeways, nine hung and horny studs skewer each other's mouths and asses on a sultry summer's day.
Surprise Package - Studio: Titan Men Fresh

At the super sexy birthday bash in Surprise Package, the birthday boy doesn't even get to blow out a single candle before his crew of hot friends are blowing and fucking each other all over his house. Lean and muscled Jay Roberts kicks the party off by jumping out of a big gift box in nothing but a jock strap and a bow tie......
Tinderbox - Studio: Titan Men Fresh
Welcome to spring time in the European countryside, where eight sexy young muscle studs hitchhike, suck dick, munch butt and fuck each other at a buddy's country home. It's Tinderbox, a spunk-splattered feature from TitanMen Fresh! Big and beefy Eric Tomfor is out for a drive when he spots muscle couple John Alvarez and Atticus Aron at the side of the road hitching a ride.
Workout - Studio: Titan Men Fresh
In Workout, the latest feature from the popular TitanMen Fresh line, nine hot young guys let loose in a kickboxing gym and work over each other's hot asses with their stiff, uncut dicks. These sexy jocks soak their boxing gear and gym equipment with one blast of hot sticky jizz after another.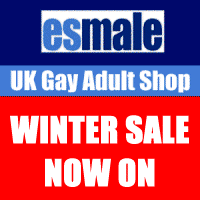 Esmale (UK Gay Adult Shop) sells a large range of gay adult sex toys including a range of fetish and restraint products, Cock and Ball play items, Whips, Paddles and Slappers, Blindfolds, Masks and Hood and are the UK stockist of Mr B leather and fetish products. They also sell a large range of men's designer underwear, condoms and lube, fleshjacks, jock straps and anal toys. Treat yourself!
Save an extra 10% on top of their already discounted prices with our exclusive code 'GAY10'. Click here to shop
See also: www.gayadultshops.co.uk