The Rudeboiz gay dvd range features hard straight looking young lads who are real rudeboy types - working class, shaved or cropped hair and sporty clothes. Rudeboiz gay porn dvds are filmed in London, shot in a documentary style, with natural sound, natural light and no music, they have a very realist look and style. The result is intense, voyeuristic and a lot more real than standard porn.

Rudeboiz 20: Caught On Camera - Gay DVD - Studio RudeBoiz
These Graffiti spraying Rudeboiz have been Caught On Camera! Stuffed full of tracksuit wearing Rudeboiz prowling British streets for their next crack den, filming their criminal activities and showing off their tight bodies to each other, they dare themselves to strip down as they spray the walls - their bad boy dicks twitching and soon rock solid!!
RudeBoiz 1: Rudeboiz - Gay DVD - Studio RudeBoiz
Chavs can be so rude, but that's how we like them. A suck and fuck flick does not get much simpler and ruder than this, so just sit back and watch the spunk flow!
RudeBoiz 2: Dirty Fuckers - Studio RudeBoiz

I'm totally blown away by this film. It keeps the fantastic documentary style of the first movie, but the boys are even fitter, the cocks even bigger, and the sex they have is absolutely phenomenal.

Cast: Mark Alexander, Alex Haylewood, Rick Hunter, Marco Martinez, Alex Mathews, André O'Layton, Danny Phoenix, Reece Richards, Steve Richards, Justin Scott, Christian Stone
RudeBoiz 3: Filthy Chavs - Studio RudeBoiz

Rudeboiz 3: Filthy Chavs is full of British rough lads at their very best, and is another surefire hit for Rudeboiz. Scallies, with tracksuits and bling on display, screw each other senseless in scruffy council flats. Gary Hughes, with his Everton tattoo, and beefy Danny Davis, start things off with a hot and sweaty session which reeks of authenticity.
RudeBoiz 4: Spunky Trackies - Gay DVD - Studio RudeBoiz
If you like well built young British lads in (and out) of trackies, shooting their youthful amount of cum everywhere - then Rudeboiz 4: Spunky Trackies is a must. Eleven new horny hung rudeboiz suck, fuck and drench each other and their trackies. No story, just real unstaged action - and buckets of cum!
RudeBoiz 5: Council Trash - Gay DVD - Studio RudeBoiz
The Rudeboiz are back! Perfect cute London council lads, the kind you find hangin out at bus stops or around the council estates, with nothing else to do but fuck each others' brains out. Includes a really XXX hot scene between Grant and Kyle J getting each others kits of and the getting each other off; by far the best Rudeboiz yet!!!
RudeBoiz 6: Hung Ladz - Gay DVD - Studio RudeBoiz
Some of the biggest cocks in the biz, pounding away at tight, teen rudeboiz' holes. Watching these horned-up lads fucking and sucking away inside council flats in their trackkies and baseball caps will blow your mind and your balls time and time again!
RudeBoiz 7: Football Ladz - Gay DVD - Studio RudeBoiz
The latest Rudeboiz has horny young scallies in football gear ready to rip it off one another and ram each others face and ass until they shoot and score!! Including one of the best simultaneous cumshots ever seen, this Rudeboiz won't let you down!!
RudeBoiz 8: Hung Ladz XXL - Gay DVD - Studio RudeBoiz
Rudeboiz returns with bigger, better and hornier Hung Ladz!! Unbelievably huge dicks being thrust into chav butts, pounding them solid with up to 11 inches of pure council cock!
RudeBoiz 9: Fit Fuckers - Gay DVD - Studio RudeBoiz

SIX LAD ORGY!! These fit fuckers are certainly just that, buff young council boys strip off their trackies and fuck like rabbits, using big thick dicks to pound their mates hard and fast, lapping up precum and getting covered in spunk.
RudeBoiz 10: Hung Fuckers - Gay DVD - Studio RudeBoiz

Celebrating the double figure, Hung Fuckers doesn't show any signs of slowing the rudeboiz down. With an amazing 6 boy orgy with 11 inch Matt Hughes!

Starring: Kyle O'Shea, Adam Conner, Nathan Cox, Shane Stone, Maxx McKenzi, Leigh Devine, Grant Joshua, Scott Murphy, Will Jamieson, Brett Carter, Matt Hughes
RudeBoiz 11: Spunky Scallies - Gay DVD - Studio RudeBoiz

Taking dick like there's no tomorrow and working the shafts in their ass until the horny fuckers explode their spunk over the scally boys mouth and face, these lads are craving the taste of cum, and know just how to get it.
RudeBoiz 12: Gangbang Ladz - Gay DVD - Studio RudeBoiz

Packed with the sexiest young lads from the estate, Rudeboiz retains the un-staged, dick throbbing formula which has made it one of the most popular studios in the British porn industry. Gangbang Ladz features some fresh faced new talent and cum hungry favourites in five arse pounding scenes where these rough lads take huge cocks in their holes and massive loads down their throats leaving them breathless, sweaty and drenched in their own juices!
RudeBoiz 13: Hard Ladz - Gay DVD - Studio RudeBoiz

Hard ass pounding, blasts of thick spunk and hole stretching double penetration, there's no mistaking these chavs are aching to dump their loads, and know how to fuck their mates with huge cocks!
RudeBoiz 14: Arse Splitters - Gay DVD - Studio RudeBoiz

There's no other way to describe the cocks in the latest instalment of Rudeboiz, besides calling them proper Arse Splitters. Just when you thought this series couldn't get any hotter, Eurocreme has scoured the London estates for the fattest cocks on the fittest chavs, including donkey dicked new boy Clayton Kole - whose monster meat will have your arse aching and your mouth watering as he pulls it out of his trackies.
RudeBoiz 15: Spunk Hungry Scallies - Studio RudeBoiz

Grab a hold of these Spunk Hungry Scallies! Rammed full of the hottest unstaged action from the depths of London's council estates, these young chavs bring their mates over for a hard fucking - teasing them with huge dicks and hungry holes, ending up covered in pure scally spunk!
Cast: Jack Jefferson, Lee Oliver, Cameron Wilson, Tierry Schaffauser, Mark Henley, Rafael Junior, Mark Lloyd, Kyle Martin
RudeBoiz 16: Hung Fit Lads - Gay DVD - Studio RudeBoiz

Everyones favourite chav studio, Rudeboiz, is back with bigger cocks, fitter fuckers, and the hottest unstaged action from real lads who love showing off what they've got! Toned, smooth torsos, bulging packages and butts hungry for a fucking - these are Hung Fit Lads! The trackies are ripped off these horny chavs and their arse cheeks spread wide.
RudeBoiz 17: Monster Cocks - Gay DVD - Studio RudeBoiz

The streets of South London are home to the hottest council trash getting off with their mates and Rudeboiz Monster Cocks brings you it all. Unbelievably huge dicks being thrust into chav butts, pounding them solid with pure council cock! Monster Cocks gives you everything you want - massive dicks on cute young boys with tight holes and fit bodies.


Rudeboiz 18: Sweaty Sport Scallies - Gay DVD - Studio RudeBoiz
If you're after perma-tanned, hard-bodied Californian porn stars then turn the page because Sweaty Sport Scallies is a Rudeboiz release dedicated to the council estate's trackie-bottomed finest. Filthy, sweaty and horny as fuck, the first two scally lads are driving round the streets of South London in a rather sweet set of wheels. Whether they've stolen it or it actually belongs to them - no one cares.
Rudeboiz 19: Scally Sex Offenders - Gay DVD - Studio RudeBoiz
An all new Rudeboiz packed full of filthy scally fucking as these Scally Sex Offenders are having the nastiest dirtiest shagging sessions the council estates have ever seen.

Cast: Fraser Jacs, Thierry Schaffauser, Scott Brown, Milo Milano, Kez Lyle, Joy Rider, David O'Connor
RudeBoiz: Chav Fuckers - Gay DVD - Studio RudeBoiz

Chavs, scallies, rudeboiz. Whatever you call them, we can all agree they're fucking hot! For that reason Chav Fuckers compiles the best spunk-soaked scally scenes, so that you can enjoy the ultimate moments of chav fucking action! Hot boys in baseball caps and trackie bottoms offer their arses to rough, tough tattooed lads, who are more than happy to give them a good hard fucking! (Compilation DVD)
RudeBoiz: Director's Choice - Gay DVD - Studio RudeBoiz

Seven hand picked scenes from Simon Booth's studio. 19 lads in hard action, fucking and sucking until they soak their trackies in fresh spunk.

Running time: 2 hours. (Compilation DVD)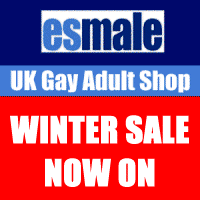 Esmale (UK Gay Adult Shop) sells a large range of gay adult sex toys including a range of fetish and restraint products, Cock and Ball play items, Whips, Paddles and Slappers, Blindfolds, Masks and Hood and are the UK stockist of Mr B leather and fetish products. They also sell a large range of men's designer underwear, condoms and lube, fleshjacks, jock straps and anal toys. Treat yourself!
Save an extra 10% on top of their already discounted prices with our exclusive code 'GAY10'. Click here to shop
See also: www.gayadultshops.co.uk