Tiger Prod Bi was one of the European leaders in bisexual porn dvds, Every orifice is treated well in their bi porn movies - by a guy, by a girl, or by both at the same time.

Bi Bar Sex - Bisexual XXX DVD - Studio: Tiger Prod Bi
In order to shove your dick up a hot pussy with a guy behind you shoving his cock up your hot ass, you have to agree you are a bisexual. How about having your dick up a guys's ass while eating a pussy? Again, a bisexual. In Bi Bar Sex there are no rules, every orifice is plugged no matter what the gender as they have a great time in the bar after hours.
Bi Billiards - Bisexual XXX DVD - Studio: Tiger Prod Bi
A pool tournament can be loads of fun, especially when your load is blasting all over the face of a hot babe who is getting her cunt eaten by another teen slut. It's even better when your mate joins in to eat your girlfriends' rug while you are sucking on his big uncut cock and then fuck his tight arsehole. Bi Billiards is a game you will want to play over and over again.
Bi House Fun - Bisexual XXX DVD - Studio: Tiger Prod Bi
Tomas' girlfriend is a right slut who loves the taste of pussy as much as she does cock. She has always wanted a three-way with another babe and Korolina was willing to play. In Bi House Fun what is good for the goose is also good for the gander and Tomas goes in for a bit of cock too and offers up his bubble butt for a hard pounding.
Bi House Guest - Bisexual XXX DVD - Studio: Tiger Prod Bi
Having your girlfriend over for the weekend can be hot, especially when she is horny. Having your chiselled buddy join in for a three-way can be even hotter. Sucking on her tits and sweet pussy while he fucks your tight ass can be good, but the weekend gets even better when Honza and Martina want you to join both of them! All aspects of bisexuality is in Bi House Guest - would you like to join them?
Bi Motel - Bisexual XXX DVD - Studio: Tiger Prod Bi
Every straight guy has a fantasy of a ménage a trois with two fine young ladies. What better a place to get it on than a cheap motel. It gets better when these chiseled studs takes on one of the babes with his gym rat buddy. As this threesome starts, sucking his cock is hot, and then eating her sweet pussy while he rams this stud's ass turns into ecstasy. Would you like to check into the Bi Motel?
Bi Ranger - Bisexual XXX DVD - Studio: Tiger Prod Bi
Preparing to be a forest ranger can be quite gruelling, but being a Bi Ranger is much more fun, especially if there are two hot babes in your class. Munching on their nineteen year old pussy satisfies a craving for a while, but offering up your wood to your buddy is too much to bear. When ranger Roland's cock gets hard her fucks more than pussy and goes straight for some tight male ass too.
Bi Sensual - Bisexual XXX DVD - Studio: Tiger Prod Bi
Some say bisexuals suffer from indecision, but when you get a hard on while eating tight pink pussy and also get hard while sucking cock it's best to just go with the flow. The boys and girl in Bi Sensual have the best of both worlds and, when it comes to the art of love making, they enjoy a Bi Sensual three-way that leaves nothing to the imagination.
Bisexual Hormones - Bisexual XXX DVD - Studio: Tiger Prod Bi
The Bisexual Hormones are raging for this bunch of cock and pussy eating guys and girls. Bisexuals are a rare breed who just love the taste of sweet cunt as much as they do cock, and there is plenty of both on offer in this fine bisex dvd. Enjoy as rock hard cock explores dark anal tunnels and cavernous pussies in this bisexual free-for-all.
Bisexual Pool Party - Bisexual XXX DVD - Studio: Tiger Prod Bi
Bisexual Pool Party starts off tranquilly enough, with friends socialising around the swimming-pool. It looks like it's going to be a hot one. Once the semen starts flowing, all bets are off - with ardent young cocks burying themselves in cute vaginas, or best mates' puckered arses! Everyone's sucking something, everyone's fucking something!
Bisexual Pool Sharks - Bisexual XXX DVD - Studio: Tiger Prod Bi
Playing pool can be an easy way to make money when you're a pool shark, especially when the prize is to munch on your buddy's girlfriend's sweet pussy - that adds an extra incentive! An appealing threesome plays shabby, but amiable, pool. The more collegiate of the boys can't keep his hands off the female player and eventually the young lady is encouraged to become naked.
Bisexual Sauna Party - Bisexual XXX DVD - Studio: Tiger Prod Bi
Taking a hot sauna after a hard work-out can be very relaxing. It gets even better when your girlfriend starts sucking your cock. When your chiseled buddy shows up, you can't leave him out and you gobble his huge uncut piece of meat. When he starts to eat your girl's pussy you can't pass up pounding his tight 19-year-old hole. These aren't the only bi's coming to this sauna too. Would you like to join?
Bi The Bunch - XXX DVD - Bisexual DVD - Studio: Tiger Prod Bi
The fascination with guys who suck cock and eat pussy continues in Bi The Bunch. See one guy fuck another in the ass while his cock is pounding a hot pussy in a daisy chain shag that leaves nothing to the imagination. These bisexuals try just about everything and no orifice goes unfilled. With sucking, fucking, nipple play, rimming on offer you will not want to miss Bi The Bunch.
Bi The Forest- Bisexual XXX DVD - Studio: Tiger Prod Bi
If you go down to the woods today you're sure to see some bi action taking place. When one guy takes his girlfriend for a walk in the woods things get quite hot. The temperature really soars when his buddy starts to lick his girls' pussy while he sucks on his mates' boner. The only dilemma is, should he get fucked in his tight arsehole while he chews on your girlfriends' tits or is it his turn to plough his friends chocolate star fish?
Bi-Ing Frenzy - Bisexual XXX DVD - Studio: Tiger Prod Bi
Girlies know that a day of shopping till you drop can work out rather costly. The boyfriends are likely to go spare when they find out how much money has been squandered! There's only one way out of the situation - get together with the lads, and please them. That's not such a burden, once the chicks see those lovely big dicks just waiting to be sucked!
Bi Now, Gay Later - Bisexual XXX DVD - Studio: Combat Zone
If you're curious about what it might be like to suck a dick while fucking a pussy, then Bi Now Gay Later may well be the dvd you've been waiting for. In five all action scenes, these horny studs and sluts fill every hole with cocks, tongues, fingers and strap-ons. Scene one opens with Adam Zarsky giving head to Denis Reed's juicy cock while he pays lip services to Winnie's juicy tits.
Wanna Fuck Me? Gotta Fuck Him - Studio: Combat Zone
How far is a guy willing to go to fuck? Does he love cum? Well he's going to have to love cum - because the guys here have to suck some dick to be allowed to fuck the girls! Is my pussy tighter than his ass? Does her pussy taste better than his cock? Take a dick in your ass, then you can fuck her!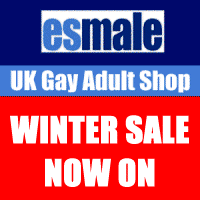 Esmale (UK Gay Adult Shop) sells a large range of gay adult sex toys including a range of fetish and restraint products, Cock and Ball play items, Whips, Paddles and Slappers, Blindfolds, Masks and Hood and are the UK stockist of Mr B leather and fetish products. They also sell a large range of men's designer underwear, condoms and lube, fleshjacks, jock straps and anal toys. Treat yourself!
Save an extra 10% on top of their already discounted prices with our exclusive code 'GAY10'. Click here to shop
See also: www.gayadultshops.co.uk