EBoys Studio specialises in xxx gay movies featuring twinks having amazing bareback sex with seeding, breeding, and cum eating. Directed by Michael Paris or Saint Cyre, EBoys gay dvd titles include Breed Me Bitch, Seed My Hole, and Holes 4 Seeds.

Ass Feeders The Gangbang - Studio: Eboys Video
David Loft is begging to have his arse filled with tons of creamy loads and huge throbbing dicks in Ass Feeders: The Gangbang. He's a real pig and the boys are eager to please him! Rasty destroys David's hole with his gigantic tool as the boys fuck underwater in the pool and on tables. Jizz lands in David's ass and open mouth - these horny perverts have so much energy that David is screaming in pleasure as his holes are filled.
Bareback Heat - Gay DVD - Studio: Eboys Video
Rebel Boyz presents Bareback Heat - twink bareback sex like never seen before! Eleven gorgeous boys fucking raw and eating loads of cum - they are hungry and just want to feel the heat! Peter Scott gets fucked by Snake with his ten-inch fat dick. It hurts but it's so good. Snake shoots one of the biggest loads ever.
Bare Twinks - Studio: Eboys Video
Bare Twinks brings you no fewer than eleven horny boys, all looking for raw sex, breeding action and cum-eating! Those gorgeous twinks with huge dicks are dirty boys - they like steamy sex and hot jizz. Meet Andree (Alex Arias) in his first movie. Bring him one or two or more boys, and he will fuck them so hard that they will scream for hours!
Boy's Juice - Gay DVD - Studio: Eboys Video
Boy's Juice brings you ten dirty boys starved for raw dicks and hot cum. Those twinks know how to fuck and get hard cocks in the ass - they are gorgeous, smooth, and begging for hard pounding. Ten farmer boys are spending way too much time fucking and eating huge loads.
Breed Me Bitch - Gay DVD - Studio: Eboys Video
From Sticky Drop and EBoys Video, the title Breed Me Bitch! pretty much says it all. Gorgeous and horny boys are willing to breed wide open asses with gallons of hot cum loads! When huge dicks are fucking them raw, these lads want to feel the warm jizz inside them. Everyone is horny, and going for long and hard fucking. Twinks can be such dirty boys!
Breeding Sex Club - Gay DVD - Studio: Eboys Video
"Breed Me, I want my ass juiced!". In the Breeding Sex Club, that's all these boys want! Nine gorgeous and dirty boys appear here for you, having lots of fun! The action is everywhere. The boys want to get plugged by big and hard cocks, and holes are wide open to receive the precious juice. There is no better feeling than having hot cum in the ass!
Breeding Time- Gay DVD - Studio: Eboys Video
In Breeding Time, join a cast of gorgeous and hot boys addicted to cum - and see them breed, seed, swallow and enjoy playing with huge toys before fucking man holes and leaving their precious juice inside. It's dirty, it's hot, it's the best cast of pigs who like to fuck hard and explore every dirty trick to please their fuck buddies.
Cumholes - Gay DVD - Studio: Eboys Video
Those gorgeous twinks in Cumholes are pure bareback pigs who love to take a piece of meat up their tight arse holes. They are into cum and want it all over and inside their arse. Jack Roy gets fucked by Snake with his huge 11" dick - his arse is in pain but it's so good he can't stop. Luke gets fucked for the first time and loves the feeling of hot jizz in his hole.
Destroy My Hole - Gay DVD - Studio: Eboys Video
The boys of Destroy My Hole dream only of one thing - thick cock plugging their tight young holes. These hot boys are committed to plugging their holes with monster cocks like never seen before as they fuck asses until the passive boys beg to stop.
Feeding Hungry Holes - gay DVD - Studio: Eboys Video

Feeding Hungry Holes is the anthem of dirty boys. Watch as 15 gorgeous twinks with high testosterone levels fuck and get fucked like crazy. Their hungry holes are just aching to get plunged, plugged and rammed by gigantic dicks. Enjoy three amazing hours and seven outstanding scenes of seeding, breeding and cum eating! (Compilation DVD)
Flawless - Gay DVD - Studio: Eboys Video - New

Jose Manuel is one of the biggest Twink Stars in the Gay Porn Industry, a stunning model who loves wild, hard sex. His huge dick and addiction to sex make each scene a must to watch! Compilation DVD / Best of Jose Manuel

Totally versatile, Jose loves to swallow gallons of jizz & can cum 3 times in 5 minutes while getting fucked!
Load My Ass - Gay DVD - Studio: Eboys Video
Probably the hottest movie from the Eboys Studio, Load My Ass is a twink lover's delight! You can only imagine what those hot boys are up to. As sex addicts, they destroy asses with huge dicks - leaving the jizz inside and swapping cum like dirty pigs! The hottest most depraved boys are here - perverts who simply love their fix of cock and cum!
Raw Evils - Gay DVD - Studio: Eboys Video
Raw Evils is made up of twelve horny little devils that want to unleash their evil fantasies and huge dicks on young unsuspecting virgin arseholes. The young boys like nothing better than to slide their cocks in and out of tight hoops until they are squirting their creamy jizz inside and pushing the limits until they are close to passing out. Say your prayers, the Raw Evils are coming!
Raw Orgy Sluts - gay DVD - Studio: Eboys Video

If you are into orgies and hot twinks eating cum, breeding asses with gigantic tools, you need look no further than Raw Orgy Sluts. These stunning boys are starved for hot cum in asses, swallowing hot jizz and steamy, dirty sex.

Cast: Joshua Black, Jesse Harris, Micky Janson, David White, Jose Delany, Alex Arias, Samuel, Eamon August, David Homer, Sebastian Hun, Loic Lukas, Simon Clay, Ral
Raw Twink - Gay DVD - Studio: Eboys Video
Place eleven gorgeous horny boys in one house and close the door, hide and watch. It won't take a minute before the boys in Raw Twink start playing with huge dicks, fuck in every room and even create a seven guy orgy in the living room. They are hot, ripped and begging to get fucked and swallow steamy loads.
Seeding Farmers - Gay DVD - Studio: Eboys Video

Seeding Farmers brings you ten of the dirtiest boys fucking raw like animals - they are gorgeous, horny and driven by testosterone, and their asses and mouth swallow cum like never seen before. These young farmers are breeding and seeding like pigs!
Seeding Fuckholes - Studio: Eboys Video
Ten gorgeous, hot and dirty boys with ripped, smooth bodies are all addicted to cum filled holes. They are cum crazy and willing to drop hot loads into open arses. They have huge dicks and fuck every hole until the jizz explodes. These are crazy boys who know how to please horny boy-bitches with amazing energy. It's a new breed of twink!
Seeding The Boys - Gay DVD - Studio: Eboys Video
Seeding The Boys - the title says it all! Hot and horny boys are loading tons of cum into wide open asses and they are pushing limits of sex into a new era! What better feeling than eating jizz from your ass? You can say dirty pigs?. Yes, that's exactly what they are! Stunning boys with huge dicks turned on by steamy and dirty sex. They just love the taste of cum coming out of asses!
Seed My Hole 1 - Gay DVD - Studio: Eboys Video
The hot cuties in Seed My Hole may be young, but they are nasty - and know how to use their dicks like no one else. It's fucking time, and all the boys are more than horny. Holes are open for huge dicks, hot loads for cum and steamy sex. The ass pounding ends with tons of jizz going into open asses and mouths. The more cum they eat, the more asses they breed, the happier they are!
Seed My Hole 2 - Gay DVD - Studio: Eboys Video
Seed My Hole 2 is all about breeding asses, and gorgeous twinks having their asses filled with hot creamy jizz. Ten stunning young sluts who want sex only with passion, hard pounding and the feeling of hot loads cumming inside them. Barebacking twinks like never seen before!
Sex Boy Toy 1 - gay DVD - Studio: Eboys Video
David Ash is probably the dirtiest twink working in porn today. He wants to get fisted and fucked by his friends and to be at the centre of a huge golden shower. Those nasty boys will please all his wishes with amazing fist and pissing action.
Sex Boy Toy 2 - gay DVD - Studio: Eboys Video
Wanna see hot boys having crazy sex? Just watch Sex Boy Toy 2 and see how perverted these twinks really are. They are young, handsome and love hard spanking, huge dildos, and dicks destroying asses. They are into swallowing gallons of hot piss and huge loads. Watch as 19 year old David gets fisted by Jose. Awesome! The action is intense and will leave you hard and speechless!
Steam Boys - Gay DVD - Studio: Eboys Video
Eboys gives you twelve steaming boys fucking raw and getting plugged by huge dicks. No plot in Steam Boys - they make the action by fucking for all they are worth. The boys are yearning for huge loads in their mouths and have sex in the most incredible positions.
The Seeding Anthology (2 DVD set) - gay DVD - Studio: Eboys Video

The Seeding Anthology gives you all the best cum dumpster twinks in one volume!

This two disc set contains all the best raw-hole-pounding, cumhole-dripping and deep bare breeding from across Eboys! Watch these young boys get seeded at every turn!
Twink's Swallow 1 - Gay DVD - Studio: Eboys Video
Smooth sexy teen cock angels enjoy some bareback and cum in the mouth moments, in this simple but horny well worth watching Twinkie voyeuristic spunk fest!
Twink's Swallow 2 - Gay DVD - Studio: Eboys Video
Teen lads have some bareback play and use anal toys. Cum in the mouth, plus some sexy interracial lads help keep the whole thing very horny.
Twink's Swallow 3 - Gay DVD - Studio: Eboys Video
Twink's Swallow 3 presents the best twink sex ever! You'll see the hottest and cutest twinks in this remarkable dvd, full of colossal loads going straight to the throat, covering every face. Mouths full of cum, with all real hot boys shooting huge amounts of creamy cum. When Calvin Christian plays with his huge butt plug, his hole is so open that he could go for a double penetration.
Twink's Swallow 4 - Gay DVD - Studio: Eboys Video
If you are a bareback twink fan, rush to watch Twink's Swallow 4. You will blow load after load watching these cute boys fucking raw and swallowing jizz. Nine gorgeous young guys with slim and toned bodies fuck like crazy. Patrick Crow, a cute little blond boy, is the king of sucking, rimming and fucking.

Twink's Box - Gay DVD - Studio: Eboys Video
Twink's Box features the hottest Twink's Latinos fucking raw. It's 100% bareback and cum eating. These Latino lads are wild, nasty and fuck like nobody else. Hot sex like never seen before with nine gorgeous amateurs fucking, sucking, and milking out huge loads of cum. they shoot and eat huge and creamy loads - delicious! -
Twink's Box 2 - Studio: Eboys Video
Joshua invites all his well-hung buddies for an amazing weekend of bareback sex in Twink's Box 2. He's totally versatile and Joshua loves to get plugged by huge dicks - he also wants to fuck every ass for some long sessions of hard raw pounding. His big and hard cock will serve everyone that's begging for it. The boys eat their precious juice or share it for deep kissing.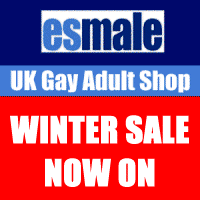 Esmale (UK Gay Adult Shop) sells a large range of gay adult sex toys including a range of fetish and restraint products, Cock and Ball play items, Whips, Paddles and Slappers, Blindfolds, Masks and Hood and are the UK stockist of Mr B leather and fetish products. They also sell a large range of men's designer underwear, condoms and lube, fleshjacks, jock straps and anal toys. Treat yourself!
Save an extra 10% on top of their already discounted prices with our exclusive code 'GAY10'. Click here to shop
See also: www.gayadultshops.co.uk