Kinky Twink Entertainment gay porn dvds features some of the kinkiest European lads around taking part in the very hottest hardcore gay twink porn.

Kinky Twink Box 1 - (4 DVD set) - Studio: Kinky Twink

Kinky Twink Box collector's edition is a whopping six hours of twinks, twinks, and even more twinks. Four complete discs (Playing With The Boys, Mad About Boys, Twink Tryouts, and Down And Dirty) will make your fantasies cum true. It's got spit-roasting threeways, interracial, outdoor sex and much more - in fact, everything a connoisseur of fresh twink meat could wish for!
Kinky Twink Box 2 - (4 DVD set) - Studio: Kinky Twink

Kinky Twinks are back for more sexual shenanigans in a new four disc collector's edition. Hungry for more cock and cum, these ultra-fit smooth boys let lust lead the way as they explore every inch of each other's toned bodies. From top to tail, they breathe in the musky scent of their fuck buddy before embarking on a hedonistic journey that will take them to the edge of heaven and back.
Kinky Twink Box 3 - (4 DVD set) - Studio: Kinky Twink

Kinky Twink Box 3 is another four disc box set from Kinky Twink Entertainment and includes the films Twink Temptations, Prisoners Of Lust, Cum Kisses and Kinky Plays. There's nothing like being tempted by a hot, smooth twink stud with a fat, uncut cock!
Boys With Toys - Gay DVD - Studio: Kinky Twink
Everyone knows that boys love their toys – be it the latest computer gadget or the newest car, but these kinky twinks love a different kind of toy! These are the kind of toys that bring more than just a smile to their faces – these toys will make them cum time and again! Not only do these horny guys revel at the thought of sucking a hard cock and getting it shoved up their ass for the fuck of a lifetime....
Cum Kisses 1 - Gay DVD - Studio: Kinky Twink
Kisses can be soft and sensual or fervent and urgent, but there's nothing like Cum Kisses to ignite the thirst for thrust! Lips lock in a passionate embrace, tongues entwine and you can feel the heat rising as your heart beats faster and your cock gets harder. With testosterone raging, these guys give in to their lust and worship each other's smooth bodies and hot cocks.
Cum Kisses 2 - Gay DVD - Studio: Kinky Twink
There's nothing quite as nice as a salty cum kiss, and it's this type of kiss that the kinky twinks in Cum Kisses 2 get. They also get hot under the collar with a sensual French kiss, which ultimately leads to a hard dick that needs deep-throating and a hot hole that needs tongue fucking! Watch these horny boys explore tight asses with fingers, tongues and cocks with one-on-one pairings, tag teaming threesomes, and spunky cum kisses!
Deep and Hard - Gay DVD - Studio: Kinky Twink

Deep And Hard – that's how these guys like it! No soft and sensual love-making here, just deep-throating cock sucking and balls-deep ass fucking! Smooth, fit and hung like donkeys, these Euro boys know how to please as tongues explore warm mouths before moving down over nipples and ripped abs to a proffered prick.
Don't Stop - Gay DVD - Studio: Kinky Twink

No one every wants the sensual and erotic fun to stop and these boys have no intention of doing so - until they succumb to a ball busting orgasm! Watch as they kiss passionately before edging down to lick nipples and envelope the growing hard-on in front of them! All bareback and raw action from these hot boys who Don't Stop!
Down and Dirty - Gay DVD - Studio: Kinky Twink

Five scenes of strutting stallions getting Down And Dirty with each other. Watch these horny, smooth Europeans dive into some blistering hot action as they worship each other's pork pipe and pinched holes. It's more than just a sofa sex-fest as they get their face in the groove and give asses a deep tweaking and a boner a thorough spit-lubing. Squat fucks, threesomes, interracial and toys all play a part in this montage of awesome anal devourment!
Guilty Pleasure - Gay DVD - Studio: Kinky Twink

Everyone has a Guilty Pleasure! You might be a choco-holic, you might crave expensive wine, but for these fit, young twinks, their Guilty Pleasure is another boy's cock - deep down their throats or balls deep in their tight twink hole! It's a pleasure they all share! A knowing look or a secret smile is all it takes to get these boys more than a little hot under the collar.
Horny Youngsters - Gay DVD - Studio: Kinky Twink

They're young and horny - so what's new? There isn't a twink around who doesn't have sex on his mind, and these Horny Youngsters are no different. The pheromones prove too much for three pals who get more than just soapy in the bath tub. Also catch a white boy drop to his knees to worship his first ever black cock! Things are gonna get very naughty and very dirty with these Horny Youngsters!
Hung & Horny - Gay DVD - Studio: Kinky Twink

If you're hung like a donkey and horny as fuck, there's only one thing to do - find a willing partner and bang the cum right out of him! Fervent kissing gets the blood pumping and the heart beating faster which in turn sees cocks harden in anticipation of some action! Tongues trail over smooth bodies, pausing to suck on erect nipples before continuing down to engulf a twitching boner that aches for attention.
Kinky Plays - Gay DVD - Studio: Kinky Twink

No Shakespeare for these hot guys – it's Kinky Plays all the way. Four scenes of pure drama and one stand-alone performance sees these boys getting hot and sweaty – and it's not the stage lights! Throbbing boners are released, only to be devoured by hungry mouths. Peachy butt cheeks are spread and tongues dive longingly into tight holes before rock hard cocks take centre stage at the back door. Watch these boys get kinky!
Mad About Boys - Gay DVD - Studio: Kinky Twink

If you're Mad About Boys then settle back for five scenes of anything-goes playtime! Interracial, solo, a threesome and two duets will see you wanting to get in on the action. A super-fit blonde hunk slams it into a black Adonis whilst it's not all about the cock in the next scene as two Euro boys get flirty with some DP toy play.
Playing With The Boys - Gay DVD - Studio: Kinky Twink

Who wouldn't want to play with these boys? Handsome, fit and hung like donkeys! These exceptionally horny boys have only one thing on their mind – each other – and they can't wait to sample the throbbing cocks that evade detection in a pair of stone washed jeans. Seductive kissing soon leads to deep-throated blowjobs and tongue fucked holes. Add some foot worship and a four finger sphincter stretching and you have the perfect prelude to some hard fucking! Five scenes of pure indulgence!
Prisoners Of Lust - Gay DVD - Studio: Kinky Twink

o-one likes to think of themselves as a prisoner, but these studs are Prisoners Of Lust - chained to each other out of desire and longing! It's the sheer carnality of it that keeps them aching for cock and cum. They ache for their appetites to be quenched as they deep-throat throbbing cocks and spit-lube puckered assholes with their tongues and stretch them out with fingers, toys and their man-hoods. Will their hunger ever subside or will they forever be Prisoners Of Lust!
Rock Hard Dicks - Gay DVD - Studio: Kinky Twink

Rock Hard Dicks are the order of the day in this dvd from Kinky Twink Entertainment. A soft cock has no place here, especially if it's satisfaction you crave. Two spit-roasting threeways puts a new spin on a manwich as these guys vie to take cock at both ends. A hot hunk makes his own enjoyment as he jerks his dick with one hand and plugs his butt with his trusty toy. Two duets also give you a first-class pass to gob-jobs and butt fucking in the last two scenes.
Tales Of Seduction - Gay DVD - Studio: Kinky Twink

Kinky Twink Entertainment gives you five Tales Of Seduction that sees willing bottom boys giving in to temptation! Seduced and enticed, these guys succumb to a talented tongue, a warm mouth and a hard cock! With these physical attributes and an eagerness to service a throbbing shaft, it's not hard to be seduced by these young lads!
Twink Temptations 1 - Gay DVD - Studio: Kinky Twink

Everyone is tempted by something. It could be something sweet, it could be something savoury - but there's nothing like being tempted by a hot, smooth twink stud with a fat uncut cock! It's not hard for these young lads to fall into temptation when a buff guy is offering you his cock and his hole on a plate! Seduction doesn't even enter into this equation as these guys fall into each other's arms and onto each other's hard dicks.
Twink Temptations 2 - Gay DVD - Studio: Kinky Twink

Who wouldn't be tempted by the eye candy in Twink Temptations 2? Smooth, handsome and hung, these boys have got it all! Lips lock and tongues entwine for deep and sensual kissing - and that's just the start. Watch as hands and fingers snake over hard abs and dip under jeans and shorts to reach the ultimate prize - a big fat juicy cock! Temptation proves too much for these twinks as they succumb to their desires and allow themselves to be used and spunked on! Just how they like it!
Twink Tryouts - Gay DVD - Studio: Kinky Twink

These twinks are going to try-out – but it's not for the local basketball team. Watch them try-out in the bedroom and on the sofa to see who has the hardest cock and who can cum the most! With big dicks at the ready, they are primed for the fuck of a lifetime and boy, will their bottom boys know about it! Ten sultry models suck dick, tongue tight holes and fuck a cute bubble but 'til they shoot a wad of hot cream – which of course is all licked up. This is one team you'd love to try-out for!
Young Sluts - Gay DVD - Studio: Kinky Twink

A full review of Young Sluts will appear here soon.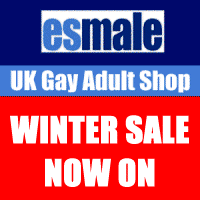 Esmale (UK Gay Adult Shop) sells a large range of gay adult sex toys including a range of fetish and restraint products, Cock and Ball play items, Whips, Paddles and Slappers, Blindfolds, Masks and Hood and are the UK stockist of Mr B leather and fetish products. They also sell a large range of men's designer underwear, condoms and lube, fleshjacks, jock straps and anal toys. Treat yourself!
Save an extra 10% on top of their already discounted prices with our exclusive code 'GAY10'. Click here to shop
See also: www.gayadultshops.co.uk