The twinks in Naked Beauty gay xxx porn dvds are all smooth, toned and perfectly formed - and have just one thing on their mind. Sex. Compilation Gay DVDs featuring some of the best Staxus scenes.

Ass Exposure - Gay DVD - Studio: Naked Beauty - new release

When it comes to Ass Exposure, these gorgeous young men are more than willing to bare their pert, tight asses because it's a given that a hot tongue and inquisitive fingers will soon be exploring between their cheeks and delving into their twitching ass. Instead of riding their bikes, two sexy boys split the lycra and ride each other hard and raw, whilst three friends decide to forgo a BBQ lunch in favour of some hard man-sausages and creamy man-mayo.
Cock Pleasure - Gay DVD - Studio: Naked Beauty - new release

It's just too easy to get some serious Cock Pleasure with these handsome and hung studs. It's a deluxe tease session from the start with these young men leisurely kissing and caressing, enjoying the feel of each other's smooth skin and toned body before they take turns at some oral mastery that of course involves tea-bagging and ass stroking.
Naked Beauty Box Set 1 (4 DVDs) - Studio: Naked Beauty

Naked Beauty Box 1 is filled with exactly that - four dvds of naked twink beauty! The gorgeous lads that grace the cover are just as fabulous as the ones indulging their every fantasy with each other on these four discs.

Features the following 4 titles: Cum Outside, Wild Fuck, Sweet Love Making and Give Me More
Super Buddies Love To Cum - Gay DVD - Studio: Naked Beauty

It's not only happening on the cover of this gay twink DVD that the jizz is cumming out of hard boy boners, no! These greedy pups "Love To Cum", love to play with a super-hot buddy whose cock is as hot as their own, love to slowly stretch tight bubble butts with their rigid night sticks and love to receive the creamy nectar from the boys they fucked with! This jizz-laden escapade will be a definite hit for both you and your hardon, and will be an excellent addition to your XXX DVD collection!
Asking For More - Gay DVD - Studio: Naked Beauty

Unlike Oliver, Asking For More gets these boys exactly what they want – more sex! It doesn't always mean more hot bodies to kiss and touch, more hard cock to drool over and more ass to savour, fuck and fill, even though that's exactly what some of these guys are hankering for.
Assholes - Gay DVD - Studio: Naked Beauty

Naked Beauty brings you some of the tightest Assholes around, and we must say, the boys to which they belong are mighty fine. These twink hunks are constantly horny and love nothing more than joining their like-minded buddies for hot, frenetic sex!
Cum Outside - Gay DVD - Studio: Naked Beauty

These hot young men want you to do more than just Cum Outside – they want to take you on a hedonistic journey of sexual pleasure that will have you creaming under the clear blue skies of the great outdoors! Like a farmer in the springtime, they prepare to plough more than just the fields – they want to turn you over and plant their seed deep in your furrow!
Also available: Naked Beauty Box Set 1 (4 DVD set)
Deep Thrusts - Gay DVD - Studio: Naked Beauty

There can be nothing better than your handsome lover romancing you, turning you on and filling you up with Deep Thrusts until you're ready to shoot your load – or maybe there is! What about a fiveway locker room romp that sees an array of cock getting jerked and sucked and boy butts getting busted by their play mates.

Fucking Perfect - Gay DVD - Studio: Naked Beauty

With their handsome faces, toned bodies and a yearning for sexual pleasure, these boys are Fucking Perfect in every way! With an irresistibility about them, these gorgeous devils worship every inch of each other, starting with full-on kisses, before wandering hands trace over tensing muscles and reach for a fat cock that twitches with the anticipation of a firm touch and a warm mouth.

Give Me More - Gay DVD - Studio: Naked Beauty

Eight gorgeous young men discover that Boarding School provides them with a lot more than just an education – they also get an intimate lesson in hard loving! Gay curiosities are piqued as the mere touch of a pal's hand on a firm thigh gets these young pups hard as rock and the urge to kiss another boy and feel his tongue is overwhelming.
Also available: Naked Beauty Box Set 1 (4 DVD set)
Hard Cummers - Gay DVD - Studio: Naked Beauty

You'd be hard pushed to resist these beautiful, young twinks when they look you in the eye and beg you for more! These boys have got it all going on - a delicious mouth that aches to be kissed, a smooth body that yearns to be touched and an impressive dick that longs to be caressed and sucked.
Perfect Match - Gay DVD - Studio: Naked Beauty

If you're lucky enough to find perfect fit, then hold on to him as you may have just found your Perfect Match! These stunning young men know they've found their Perfect Match and they want to show them off – every gorgeous inch of them! With handsome faces, lean and toned physiques and cocks to die for, these lovers are in seventh heaven and hungry for some attention!
Secret Games - Gay DVD - Studio: Naked Beauty

Everyone has a secret desire! For some it could be a hankering for a spit-roasting threesome that sees them being the slab of meat in a man-wich, a school-room tryst that sees them getting the better of the school bully, but for others, theirs is a yearning for a full-on gang banging that sees multiple guys getting their fill of multiple dick and ass.
Sexual Overdose - Gay DVD - Studio: Naked Beauty

Can you overdose on sex? Of course you can! Sex is like a drug and, like any drug, have too much and you're facing an overdose of epic proportions, but that doesn't seem to faze these horny guys. In fact, it seems to push them into wanting more cock and more cum than the usual one-on-one sexual pairings! Three boys means three hungry mouths, three hard dicks and of course, three tight asses that will need plugging!
Summer Memories - Gay DVD - Studio: Naked Beauty

Long, hot summers, hanging out with your friends, chilling and taking it easy; memories are made of this, but for this clutch of hot, young men, they want their memories to be made of something a little stronger, harder and a whole lot dirtier. Camping out doesn't just involve putting the tent up, these guys want to insert their own poles into each other.
Sweet Love Making - Gay DVD - Studio: Naked Beauty

It's quite sweet watching young twinks getting it on with each other. Their foreplay is never hurried as they kiss deeply and sensually, their hands wandering over smooth bodies exciting both themselves and their partners as they feel the passion building.
Also available: Naked Beauty Box Set 1 (4 DVD set)
Tasty Sluts - Gay DVD - Studio: Naked Beauty

Nothing but 100% bareback action with these Tasty Sluts! Eight cute twinks pair up for a session of dirty, dirty sex! They can't wait to strip each other down to reveal young, smooth bodies that cry out to be touched, kissed and licked.
Time To Play - Gay DVD - Studio: Naked Beauty

Hot bareback twinks in naughty action, including a spectacular four way!



Wild Fuck - Gay DVD - Studio: Naked Beauty

Smooth, toned and perfectly formed, these gorgeous twinks have just one thing on their mind – sex! Even though they are desperate to suck the life out of each other's solid dicks before slamming into irresistible asses, they take their time as they showcase their delectable assets.
Also available: Naked Beauty Box Set 1 (4 DVD set)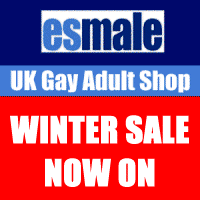 Esmale (UK Gay Adult Shop) sells a large range of gay adult sex toys including a range of fetish and restraint products, Cock and Ball play items, Whips, Paddles and Slappers, Blindfolds, Masks and Hood and are the UK stockist of Mr B leather and fetish products. They also sell a large range of men's designer underwear, condoms and lube, fleshjacks, jock straps and anal toys. Treat yourself!
Save an extra 10% on top of their already discounted prices with our exclusive code 'GAY10'. Click here to shop
See also: www.gayadultshops.co.uk