Spritzz and directors Falk Lux and Ali Lyck brings you some superb xxx gay dvds with Europe's hottest young guys doing nasty things to each other. Check out the Kallamacka gay porn dvd series for the harder edged action, and First Date Fuck and Sperm Factory for gay twinks.

Tempted To Ride Raw - Gay DVD - Studio: Spritzz

Curious boys with big dicks, sucking mouths and tight holes are Tempted To Ride Raw - and don't need a whole lot of convincing to share some bareback butt ramming in awesome scenes of youthful pleasure!

Cast: Casper Ivarsson, Carlos Costa, Ryan Otis, Jack Moon, Others
Bare (2 DVD set) - Studio: Spritzz

In this cum loaded 2DVD-set no hole is left upploughed, with plenty of bareback action pumping fresh sperm into hungry young asses. Enjoy 200 minutes of hard, stiff tools sliding bare up tight bubble buts and pumping hit jizz into gape-fucked cumholes!

Features: Raw Country Fuckers and Ficki Fick Cum Dump
Bareback Dorm Fuckers - Gay DVD - Studio: Spritzz

Spritzz's education in naked dick! In the gay twink porn DVD "Bareback Dorm Fuckers", not every pupil is focused on achieving good grades. For such horny little fuckers like Luke Tyler and Benjamin Dunn it's much more important to release the pressure from their aching balls and to stuff their raging twink boners into every boy's holes they encounter in their dorm! Hopping from bed to bed, they share naked cocks and hot, juicy loads!
Bareback Games - Gay DVD - Studio: Spritzz

These athletic stars truly give it their all, on and off the pitch. Team rivalries are soon abandoned when hard young shafts are revealed for sucking and riding, bareback and going balls-deep. See these amazing boys keeping score!
Bareback Holidays - Gay DVD - Studio: Spritzz

When they're on vacation all their extra energy just turns straight into jizz, leaving the lads with heavy, swollen balls. The five stories in Bareback Holidays show our sporty twinks doing what they love best - sinking big, hard cocks bare into tight, buff ass at sweaty bareback parties!
Bare Big Boys Inches To Spare - Gay DVD - Studio: Spritzz

Not all boys are created equal, some have been blessed with impressive extra inches of dick ready to be licked, sucked and stuffed into warm and willing holes. See them wielding their impressive lengths of meaty manhood as their horny young friends suck and service them, impaling themselves on their bareback buddies and showing how greedy for fresh sperm they are.
Baters & Butt Fuckers - Gay DVD - Studio: Spritzz

Young horny dudes love to share cock with their friends - no matter if the bro is straight or gay. Our BATERS & BUTT FUCKERS know exactly how to stroke a thick tool and suck a delicious shaft of hard young meat, but some of them want to use an ass the right way to get those big cum eruptions spewing from each other. See these horny freshmen using their tools and sharing their fun, until all balls are emptied.
Be My Fuck Toy - Gay DVD - Studio: Spritzz

In the third season of UNTOUCHED, talented porn newcomers pair up with experienced stars like Connor Levi and Deacon Hunter. Who has the biggest guns to burst out? The lads tell host Ryan James what really gets them horny, and straight after the interview their wet dreams become reality!
Best of Berlin Male 1: Berlin Youngsterz - Studio: Spritzz

Berlin Youngsterz: Best Of Berlin Male 1 has nearly two hours with 21 amateurs between 18 and 25 from Berlin! There are seventeen hot solos from www.berlin-male.com as the boys show their best parts outside, on the roof, in the garage, and in other imaginative locations. There are also two additional fuckscenes between horny young lads!
Best of Berlin Male 2: Schwanz Angriff!- Studio: Spritzz

Street punks, craftsmen, bikers, and men in suits. They all have one thing in common in Schwanzangriff: Best Of Berlin Male 2 - smoking hot, monster hard-ons eagerly on display in king-size format. Sunny massages his 22cm straight-boy meat pole at the gym. Marcel is chatted up on the street for sex, and the other boys work their rods until they spritzz their juice.
Best of Berlin Male 3: Straight Secrets - Studio: Spritzz

Straight Secrets: Best Of Berlin Male 3 is the third title from the extremely successful Best Of Berlin Male series. Real straight guys perform for the camera! Sunny fucks a blow-up doll, and since there are no women around, a boy's hot hole will have to do for Hector's glorious cock.
Best of Berlin Male 4: Fickfleisch Deluxe - Studio: Spritzz

Fickfleisch Deluxe - Best of Berlin Male Volume 4 rejoices in well-hung German guys shooting spunk with gusto. Hector, Joshua and Marcel pop their loads like there's no tomorrow! LeeRoy massages Josh's G-spot until he almost collapses in ecstasy, and Steffen stiffens when he gets some cock training from a masked intruder.
Best of Berlin Male 5: Fuck Me Harder - Studio: Spritzz

Fuck Me Harder: Best Of Berlin Male 5 is a collection of Spontaneous outdoor sessions, stress-relief with straight buddies and a boy-juice orgy with the super-fine Rick Belour. 22 hard rods get polished until the juice cuts loose. Juergen splits Christoph's tight ass with his extra-large hammer until he whimpers loudly in lust.
Best of Berlin Male 6: Jung & Dauergeil- Studio: Spritzz

Breakdancer Niki is always horny - this Berlin street hussy shamelessly drops his pants for Spritzz and is proud to show off his magnificent rod. When Darian pulls out his hard-on in front of the lens during a photo shoot, photographer Marcel can't wait to get both his holes plowed with that fat juicy cock. 19 scenes.
Best of Berlin Male 7: Kerle Unter Druck - Studio: Spritzz

Kerle Unter Druck: Best Of Berlin Male 7 has 5 horny fuck scenes and 9 solos with cum-crazy guys. When beefy Ivan comes back from jogging dripping in sweat, he just has to play with his big bulge until the XL meat spurts a hefty load. In a porno cinema Daniel comes across the tattooed Jake and ends up in a sling, where his greedy hole gets fucked hard.
Best Of Berlin Male 8: Junge Spritzer - Gay DVD : Spritzz

No matter if it is couples action or solos wanks, the guys in Junge Spritzer: Best Of Berlin Male 8 stroke their pipes 21 times in total. Phil plays with his huge piece of meat in front of the webcam, and later on lets his older friend Max fuck him in the ass. Raul is a tourist who gets lost in Berlin and receives the unexpected help of a 19 years skaterboy.
Best Of Berlin Male 9: Young Cocks Hard & Juicy - Gay DVD : Spritzz

Young Cocks Hard & Juicy: Best Of Berlin Male 9, volume 9 of the popular Berlin Male series shows 21 young guys in cool solos and hot duo action. Rick and Justin doing strip poker, Paul getting a huge black cock up his ass after a bicycle puncture, and the other show-offy guys are cream of the crop as well.
Best Of Berlin Male 10: Hard Hunks - Ready To Fuck: Spritzz

Sporty boys with trained bodies and masculine men are the focus of Hard Hunks: Best Of Berlin Male 10. Visitors to Berlin, such as the delicious Dimitur with his XL cock, or cool guys off the street are happy to drop their trousers and wank their hard dicks for you until their cream flows. A total of 18 guys show us what men like in 4 fucking scenes and 11 hot solos!
Big Tools For Deep Screwing - Gay DVD - Studio: Spritzz

Three young lads take turns to fuck holes and shoot their load like little bastards. An 18-year-old apprentice shags his supervisor at the workshop and cums all over his face. Luke fondles his 9-inch manhood until it ends in a spunkfest... And he's not the only one: all his mates are mega horny with their balls about to burst.
Bodycheck (Kallamacka) - Gay DVD - Studio: Spritzz

In the workshop Dan and Jordan pack out their heavy tools to stuff Brett's holes with spit and sperm. Florian pushes his dirty socks into JP's gob and takes a thick dildo to prepare him for a merciless fuck that will end with JP taking a flood of jizz in the face. Tough dude Guillaume nabs boyish Jerome in the loading bay and rams his fuck home until they're both forced to pump out a load.
Bolzplatz (Kallamacka) - Gay DVD : Spritzz

Bolzplatz (Kallamacka) is the second title after Strafraum that has been filmed in the NSA-Field-Station at the top of Teufelberg in Berlin. During a photo shooting Brice will get to know how Moskito is not only interested in getting nice photos done.

Cam Shooterz - Gay DVD - Studio: Spritzz

Fucked hard and loads unleashed! Hot and horny teen boys film themselves getting nasty in Cam Shooterz - and you are right there in the middle of it all. The young Cam Shooterz talk about their private sexual adventures during the casting shoot and eagerly spread their legs to test their cocks and juicy boy-holes.
Cum Guns Reloaded - Gay DVD : Spritzz

Cum Guns Reloaded presents sperm filled highlights from Spritzz at a bargain price! 18 well hung guys, among them Moskito, Darian and DJ Brice, show off in seven horny sessions! When pissing in a disco toilet, DJ Brice makes it clear to the two other guys there what he wants - and then fucks them so hornily in the ass that little Moskito cums hard a second time.
(Compilation DVD)
Cute Twinks Take Monster Cocks - Gay DVD - Studio: Spritzz

Young British lads have balls full to bursting in Cute Twinks Take Monster Cocks, and will do anything to shoot their load.On hand there is nothing better than the big tools of Luke, Brandon, Damian and their mates. The twinks, always eager for more, take the monster cocks up the arse all the way in five scenes drenched in cum featuring 13 boys with tight little arses and extra large dicks.
Double Impact 1 (Million Dollar Boy and Liquid Heat) - Spritzz

Double Impact 1 contains Million Dollar Boy and Liquid Heat - over three hours of hard fucking in eleven hot scenes on a two dvd set. In pairs, threesomes or more the lads from Spritzz are constantly horny and play around with their cocks and holes until they can't hold it any longer and shoot huge loads of cum.
Double Impact 3 (Sperm Factory & Cam Shooterz) - Spritzz

Sperm Factory & Cam Shooterz bundled up! The lads like to keep their big cocks busy in all circumstances as the balls are always full to bursting!

These two Spritzz classics bring 24 hot guys together who know how to pleasure each other at home as well as outdoors.
Ficki Ficki Cum Dump - Gay DVD - Studio: Spritzz

The lads in this DVD are in their porno prime and never miss a beat when they get a chance to train up their cocks. Hard, stiff tools slide bare up Caspar's bubble butt and pump hot sperm into his gape-fucked cumhole - and the next jizz donor slips straight up right after.
Fickrausch (Drawn To Porn) - Gay DVD - Studio: Spritzz

A magic comic draws its readers into hot, libidinal adventures and lets secret fantasies come true in Fickrausch. The stories start in the form of intricately animated comic pictures. After the setting is established, the pictures dissolve into the reality of the typical sweat-inducing day in the world of porn.
First Date Fuck - Gay DVD : Spritzz

In a chaotic shared flat in Berlin a bunch of ever-horny guys not only fuck around with the guests but also among themselves! Mika comes back from his vacation to get a blowjob from his room mate Florian, who is then fucked by Mika's XL piece of meat. Six hardcore scenes where Marco, Leo, Mika, Raul and friends learn how cocks can make sperm fly all over the place. A high quality production with smoking hot German guys.
Freistoss (Kallamacka) - Gay DVD - Studio: Spritzz

Cool Berlin dudes in hot sports outfits visit the hip Freistoss Party in Zurich, and pretty much tear apart everything they get their hands on! In a total of six scenes, eager pussy-boys are snatched up by dominant dudes, fucked in the mouth and in the ass - and even get a filthy gym shoe shoved in the face.

Schluss mit Liebficken! Das junge und innovative Berliner Pornolabel spritzz startet eine neue Pornoreihe: Kallamacka. Coole Typen in Sport- und Streetwear, die beim Sex entweder dominante Macker oder folgsame Miezen sind. Nachdem der Berliner Basti den coolen Raul gesehen hat, kann er den trainierten Typen mit seinen weißen Sneakern nicht mehr vergessen.
French Power Sluts - Gay DVD - Studio: Spritzz

Brice Farmer, the sizzling hot French superstar, has shown in a dozen international productions how swiftly he can put his hard todger to good use. In this Special Edition spritzz presents Brice and his partner Moskito in six mega horny hardcore scenes.

Cast: Brice Farmer, Moskito, Basti Winkler, Max Exe, Tommy Haine, Ruben Litzky, Alex Toledo, Max Schneider, Daniel Dix, Tommy Haine, Kai Ludwig, Tom Stahlberg
Fresh Cock Heroes - Gay DVD - Studio: Spritzz

Nerds with huge cocks, fuck-hungry newcomers and boys-next-door are looking for reckless sexual adventures, and that's exactly what they get in FRESH COCK HEROES. With his tell-all, intimate interviews host Ryan James gets the guys into the sleazy swing of things!
Freshly Milked Boys - Gay DVD - Studio: Spritzz

In Spring, the balls of our young UNTOUCHED porn virgins swell up with juice until they're fit to burst. These newbies have pressure like they've never known before and are aching to get their boycream milked off any way they can. Before that relief comes, they have to go through a shameless interview, confessing their dirtiest fantasies to host Ryan James.
Fuck Me Lke The Slut I Am - Gay DVD - Studio: Spritzz

Angelo works as a pizza deliverer in Berlin and he's an attractive young bloke he often gets chatted up. His next customer is very lucky indeed as Angelo's arse needs a thorough pounding today. At his expense a mate of his even joins them for a hot threesome. Four more fuck scenes feature a group of young lads spurting their cum like there's no tomorrow, plus a bonus showing a selection of "failed castings"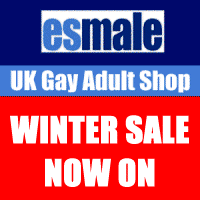 Esmale (UK Gay Adult Shop) sells a large range of gay adult sex toys including a range of fetish and restraint products, Cock and Ball play items, Whips, Paddles and Slappers, Blindfolds, Masks and Hood and are the UK stockist of Mr B leather and fetish products. They also sell a large range of men's designer underwear, condoms and lube, fleshjacks, jock straps and anal toys. Treat yourself!
Save an extra 10% on top of their already discounted prices with our exclusive code 'GAY10'. Click here to shop
See also: www.gayadultshops.co.uk