Young Bastards is an extreme range of gay porn movies from Germany directed by Max Jaeger. With titles such as Berlin Beer Bondage, Piss & Big Dicks, and Prison Camp, these adult gay dvds include bondage, pissing, control and rough beatings.

Obey Foot Loving Fuck Buddies - Studio: Young Bastards - new

Sexy sneakers, sweaty socks, suckable toes and big hard cocks, those are the things these boys love the most. Foot play gets these submissive young men so horny they're willing to become servants to their sexy friends, face fucked, stuffed with hard dick and splashed with hot semen by the end of it. Join the fun, and make sure you're barefoot!
Fuck Machine: One Cock is Never Enough : Young Bastards - new

For some horny sluts out there, one cock is never enough! They want their asses get drilled 24/7, and when their fucker's ramrod has shot its juicy load, they switch over to a real fuck machine that never gets tired! A piston pumping machine makes sure they get the extra anal action they need.
Blindfolded & Bound - Gay DVD - Studio: Young Bastards - new

For young sub-sluts are put trough their paces by their brutal masters. At the mercy of hard, dominating tops, their asses are just playthings to be spanked and used. Their faces are cum dumps for massive loads, and they're helpless to do anything about it. A load-blowing bonus scene and three intimate interviews are included.
Hard & Raw: Helpless in a Warehouse - Studio: Young Bastards - new

Delivery drivers in need of a good fuck don't care what they do to get one. Abductions, rough blow-jobs, hard bareback sessions the victims don't stand a chance when a hungry top needs to deliver a juicy load.

Cast: Dmitry Osten, Johannes Lars, AJ Alexander, Titus Snow
Abgefickt Und Vollgepisst (Fucked & Pissed) - Studio: Young Bastards

Cool boys who only have hardcore sex in mind and thick cocks in their pants in Abgefickt Und Vollgepisst (Fucked And Pissed)! These are the young bastards who love nothing more than piss, domination, and 2-in-1 fucks which are just a few examples of the horny games they love to play.
Berlin. Beer. Bondage. - Gay DVD - Studio: Young Bastards
Berlin Beer Bondage takes you on a journey through the streets of Berlin, where unsuspecting lads get kidnapped to be used and abused in dingy basements by a bunch of domineering machos. Piss, bondage, beer and whacking - they'll resort to any suitable method to humiliate their victims who must indulge their every sexual whim.
Big Tools For Deep Screwing - Gay DVD - Studio: Sprittz

Young lads take turns to fuck holes and shoot their load like little bastards - and they've all got Big Tools For Deep Screwing. An 18 year old apprentice shags his supervisor at the workshop and cums all over his face. Luke fondles his 9 inch manhood until it ends in a spunkfest. And he's not the only one - all his mates are mega horny with their balls about to burst. It's a non-stop fuck session as these cute boys make sure that every cock is sucked and every hole is filled!
Bound: Slaves To Their Cocks - Studio: Young Bastards

Submissive, helpless twinks offer up their cocksucking mouths and tight asses for use in a series of anonymous sex dates. The fuck-ready lads of BOUND want just one thing - to grind their tools in until their stiff cocks dump their cum.

Cast: Timmy Treasure, Reece Bentley, Dylan Thorne, Danny Montero, Nathan Hope, Tyler Jenkins, Cody Rivers, Jack Green, Harry Alexander
Control - Gay DVD - Studio: Young Bastards
It's all about Control, and during an extreme breath game, little Eric takes a good pounding from macho Jordan and is so violently throttled that his face turns blue. The young macho has the little basterd totally under his Control! Three lads subject their mate to a hefty gangbang because he lost a game. Florian blindfolds his pal and as a surprise, brings with him a penis pump and a leather man. In five scenes these Young Bastards get their rocks off like there's no tomorrow. The name of the game is Control!
Deep In The Dark - Gay DVD - Studio: Young Bastards

In the darkness of Berlin's cellar fuck clubs things can get hard and heavy. Achingly horny sportswear guys and chav lads with balls packed fit to burst are on the hunt for some fresh fuckmeat. The macho guy's targets are young and inexperienced. They're tied up by their dominant top fuckers and turned into eager whores for everyone to get off inside. One sperm load after the other, blasting out until every nutsack is emptied out!
Excess All Areas - Studio: Young Bastards

The selfie generation! Young, hung and horny fucktoy boys need to satisfy hard cocks just to feel useful. These needy whores can't sink low enough in their need to please, handing their sub bodies over for merciless poundings by their brutal fuck buddies. Five scenes, eleven bastards and countless reasons to dump your load!
Hazing - Gay DVD - Studio: Young Bastards

Brutal tops mercilessly satisfying their dominant desires, reducing young lads to basic sexual objects. Asses get smartly spanked and roughly fucked - but the horny moans of these supposed victims raises the question: who is actually serving who here?
Piss and Big Dicks - Gay DVD - Studio: Young Bastards
Young pervs drink piss and have lots of fun with huge cocks. Basti gets a good humping from his mate Flo after being forced to guzzle beer and his pee. Two twinks get chained and raped by a team of track workers. It's a fisting fest in the open air and super-well endowed Luke ends up drinking his own piss. Six scenes at a breathless pace featuring the hottest twinks around.
Prison Camp 1: Fucked into Submission - Studio: Young Bastards

A prison camp cut off from all form of civilisation. The young inmates have no choice but to give in to violent guards as they are ruthlessly used and abused as mere sex objects. Hard, hot and just uber horny!

Cast: Jordan Fox, Luke Desmond, Troy Daniels, Dean Burke, Greg Centuri, Skyler Blu, Lucas Davidson, Chris Young, Basti Winkler, Lloyd Adams, Cristian Martin
Prison Camp 2: Anal Assault- Studio: Young Bastards

In this Prison Camp young inmates are at the mercy of brutal guards and used for all sort of perverse games. But this is only a foretaste of much more hardship...

Cast: Jordan Fox, Luke Desmond, Greg Centuri, Skyler Blu, Troy Daniels, Lloy Adams, Chris Young, Christian Martin, Lucas Davidson
Prison Camp 1 & 2 (2 DVD set) - Studio: Young Bastards

Young inmates at the mercy of brutal guards. A prison camp cut off from civilisation. The ultimate harassment. 2DVD collector's item!

Cast: Jordan Fox, Luke Desmond, Troy Daniels, Dean Burke, Greg Centuri, Skylar Blu, Lucas Davidson, Basti Winkler, Lloyd Adams, Cristian Martin, Chris Young
Slut At Your Service - Gay DVD - Studio: Young Bastards

Machofucker Sergio Mutty isn't a guy for time wasting. Before he rams his XL fucktool into his new bitch he doles out a few smacks in the face and makes sure his feet have been licked clean. In the other stories in SLUT AT YOUR SERVICE things also get to the point in the roughest way – fat, XL cocks and willing bottoms.
Triebstau: Hard Sex Drive - Gay DVD - Studio: Young Bastards
The young bastards in Triebstau: Hard Sex Drive live fast and fuck hard - and, with five scenes of horny guys getting down and dirty, you'll be hard-pushed not to get to work on your own cock! Cris, a horny Italian skater, gets chatted up on the street by Basti and it doesn't take long before they both end up at the youth hostel..

XL Underdogs - Gay DVD - Studio: Young Bastards

Dominant trainers and obedient doggies – macho tops put the young subs in XL UNDERDOGS through their paces in a round of perverse games. Breeding, ass stretching, piss play and of course hard fucking as punishment are just some of the methods of discipline that a cheeky pup will have to put up with...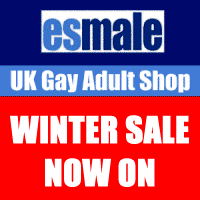 Esmale (UK Gay Adult Shop) sells a large range of gay adult sex toys including a range of fetish and restraint products, Cock and Ball play items, Whips, Paddles and Slappers, Blindfolds, Masks and Hood and are the UK stockist of Mr B leather and fetish products. They also sell a large range of men's designer underwear, condoms and lube, fleshjacks, jock straps and anal toys. Treat yourself!
Save an extra 10% on top of their already discounted prices with our exclusive code 'GAY10'. Click here to shop
See also: www.gayadultshops.co.uk